Hong Kong-based technology company Svbony has been on my radar ever since I test drove their excellent SV 202 ED binoculars. These very economically priced instruments are packed full of advanced features that have delighted many thousands of hobbyists around the world with their excellent build quality and great optical performance. Indeed, the SV202 8 x 42 ED is the only full-size roof prism I now use. Svbony are even better known for their astronomy products, from eyepieces to high-quality ED refractors, where they have garnered an excellent reputation for producing high quality products at prices that won't break the bank.
In a previous review, I showcased their high-quality mini spotting scope, the SV410 9x-27x HD spotting scope (see the Preamble link above) and was very impressed with its optical and ergonomic qualities. While the SV409 serves as a great ultraportable scope, it lacks the higher magnification and greater light grasp of larger aperture spotting scopes mostly employed by birders. These limitations got me curious about test driving a substantially more powerful spotting scope, so I contacted Svbony enquiring about their new high-performance SA405 20x-60x 85mm ED spotting and they agreed to lend me a unit for testing and evaluation.
First Impressions
The instrument arrived extremely well packaged inside a medium-sized, padded box. As well as receiving the spotting scope, I also received a very nicely made soft padded case that can also serve as a protective neoprene sleeve for observing in adverse weather conditions. A comprehensive manual explains all the features of the scope and how best to get it set up for use.
The scope itself is extremely well built and very handsomely presented, tipping the scales at just over 2 kilograms. Covered in a tough, textured army green rubber, it's beautifully streamlined and easy to hand hold. The zoom eyepiece delivers a continuously variable magnification range from 20x to 60x and moves smoothly throughout its travel. It has excellent twist-up eyecups that click into place firmly. The eye lens is pleasingly large at 28mm making eye placement over the scope easy and intuitive.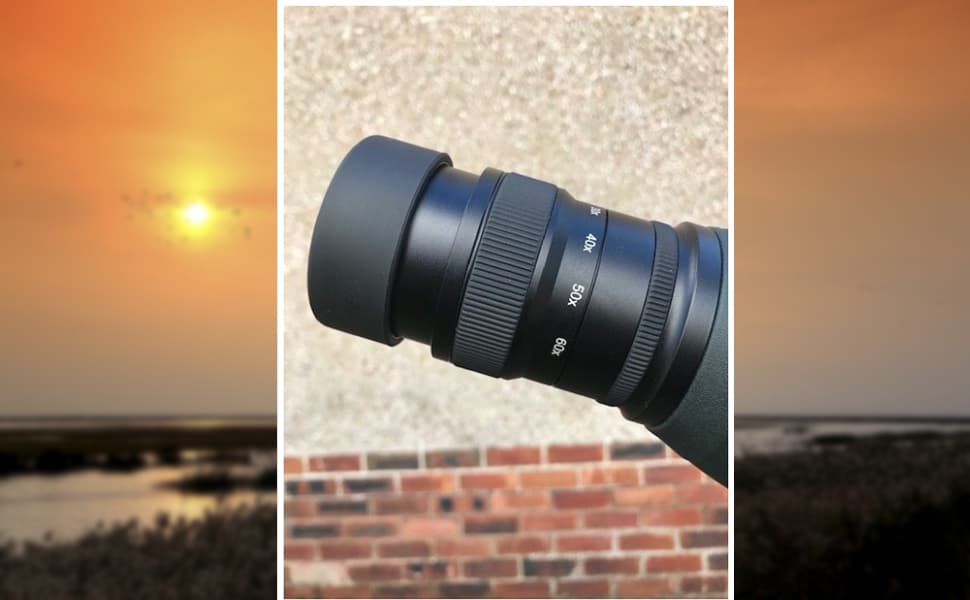 -The very nicely engineered zoon eyepiece has twist-up eyecups that rigidly lock in place.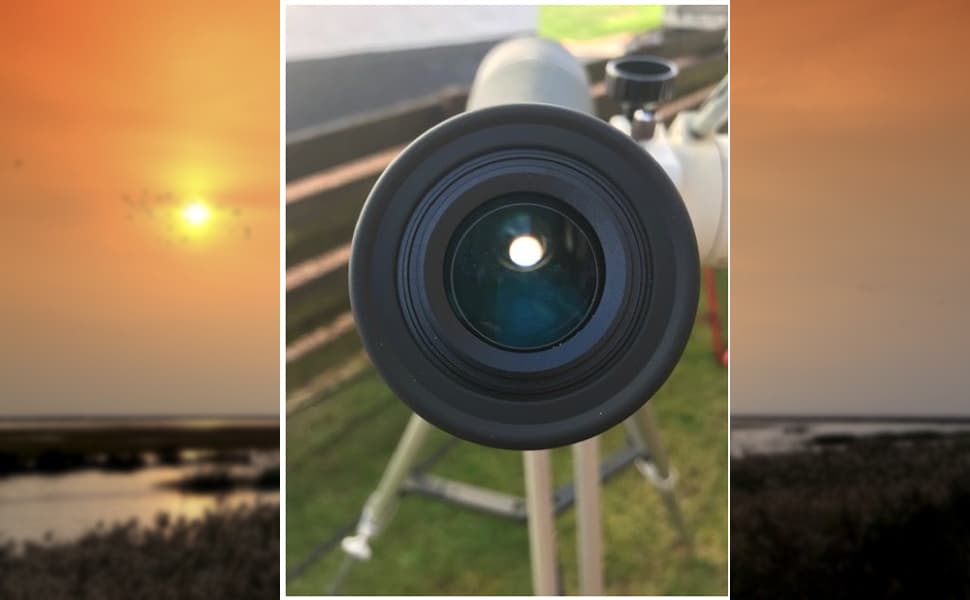 -Check out the large eye lens of the zoom eyepiece for easy eye positioning.
The interior of the instrument is immaculate with no dust, residue and nicely machined components. The tough rubber objective and eyepiece covers are very tightly fitting to keep the optics safe when not in use. These are a far cry from the cheap plastic covers I've seen on other spotting scopes on the market.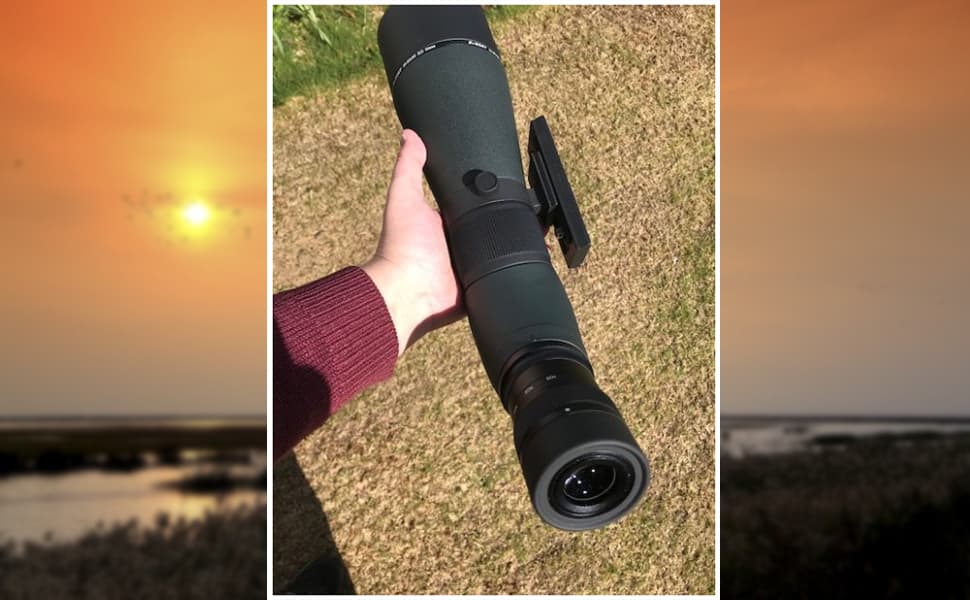 -The Svbony SA405 20x-60x 85mm is nicely streamlined and easy to hand hold.
The single-speed helical focuser is a significant improvement over the smaller SV 409 mini spotter I tested a couple of years back. It's much easier to turn – surely a good thing, especially at the higher powers where precise focus is an absolute necessity.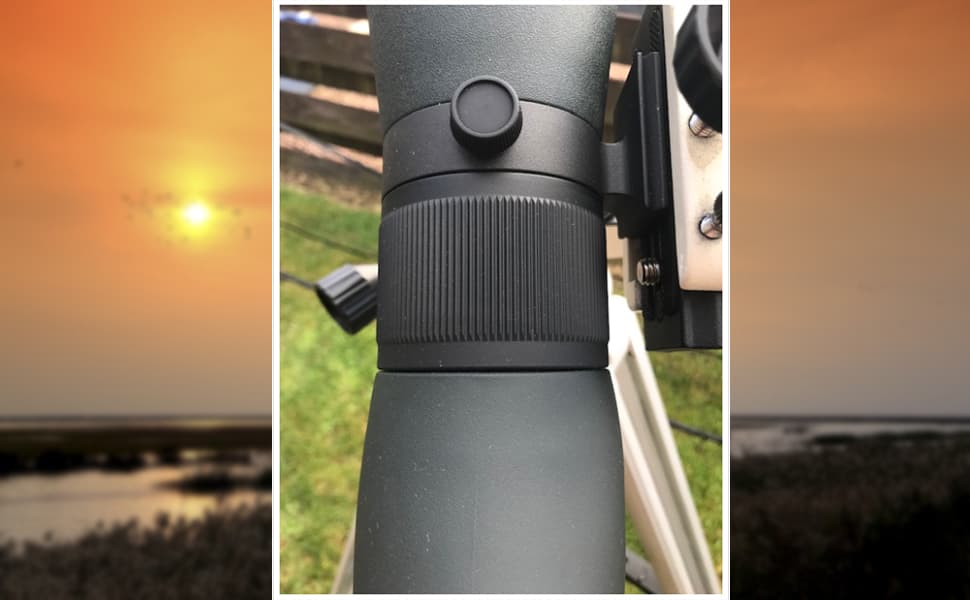 -The single-speed helical focuser is buttery smooth to operate and achieves a very crisp focus throughout the 20x to 60x magnification range of the instrument. Note also the indexed rotatable sleeve in the instrument's mid-section.
The mounting ring is rotatable through 360 degrees and is very nicely indexed which you can hear as it clicks into its various positions that can be maintained by tightening the thumbscrew. This allows the user to adjust the position of the eyepiece so that you can achieve your most comfortable viewing position.
The large 80mm triplet objective has very evenly applied multi-coatings, as do the eyepiece lenses, which have a pale greenish tint in broad daylight.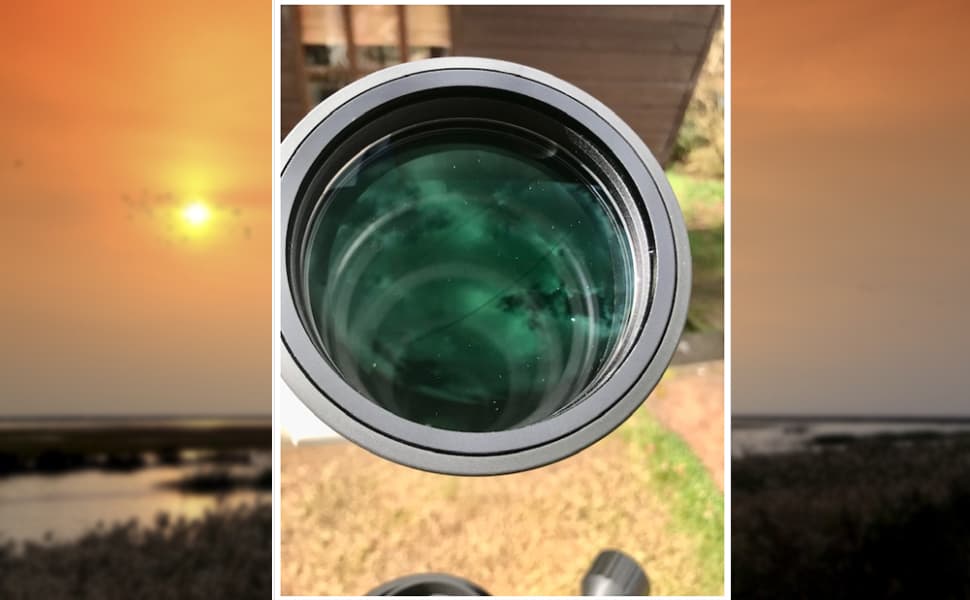 -The large 85mm triplet objective has very evenly applied multi-coatings.
The retractable dew shield slides smoothly and affords excellent protection from stray light and glare and by helping to keep the objective lens elements dry when used in rainy weather. Its matt black colour complements the army green a rubber armouring of the scope beautifully.
The K9 Porro prism used to direct the light into the eyepiece is good match to the optical specification of the instrument. K9 is optically equivalent to BK7, and while not as good as BaK4, is perfectly adequate as the focal ratio of this scope is 5.7, well above the f/4 threshold under which BK7 or its equivalents show their limitations. K9, like BK7 has a lower dispersion than BaK4 too and so should help control chromatic aberration that little bit better.
The SA405 spotting scope comes with a built-in mounting bracket to enable it to be easily attached to photographic tripods. For more precise manoeuvring of the scope, I also attached a small dovetail plate so that I could mount it on my trusty Vixen Porta II altazimuth mount with slow motion controls.
The unit is waterproof (IPX6 rated) o ring sealed and purged with dry nitrogen gas to prevent internal fogging in cold weather. I tested this out by exposing the instrument to very cold, sub-zero temperatures for a couple of hours before bringing it into a warm indoor environment. The outermost lenses fogged up, as expected, but as soon as it was dispersed, I could see that the interior remained dry and fog free. Good job Svbony!
All in all, I came away extremely impressed with the instrument's solid build quality and nicely thought-out ergonomic features.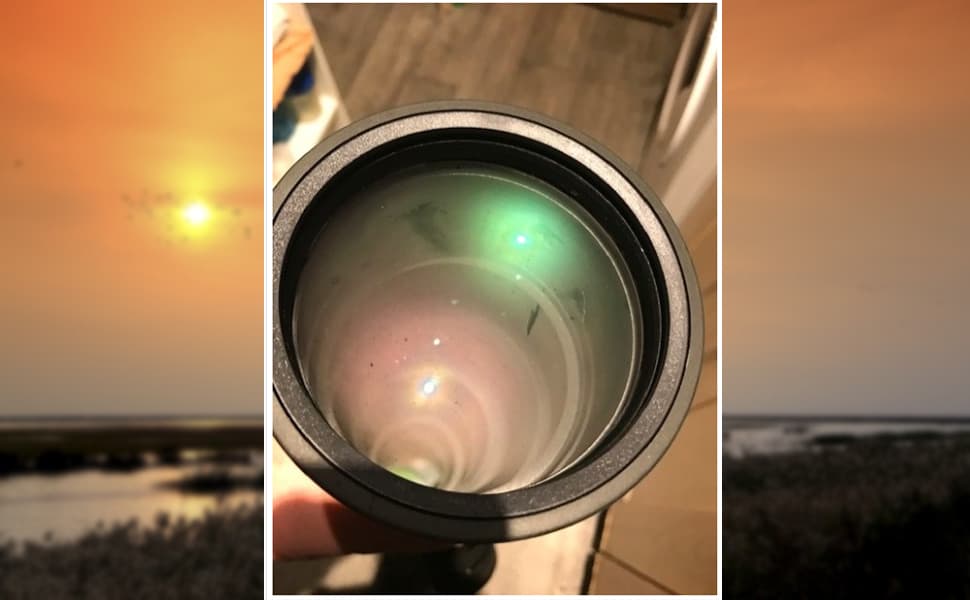 -The objective lens shows condensation after being brought in from the cold night air but the interior remains bone dry and fog free.
Neil English.net provides more information about the product as follows.Welcome to read and comment.
Mountng Options
Optical Testing
Daylight Impressions
More Nightime Testing
Solar Observing
My First Field Trip with the Svbony SA405 20x-60x ED
Conclusions & Recommendations